Required Commercial Hood Cleaning Service with Funding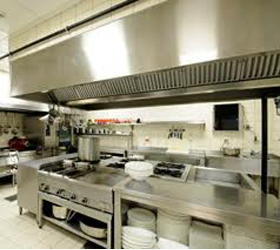 Description
This large national franchise occupies a valuable niche in the commercial food service industry. They are looking for franchisees to complete their support network for many National Accounts. As the leader in hood maintenance and cleaning, this franchise offers an unparalleled opportunity to own a business in an industry on the rise. Kitchen exhaust cleaning services include restaurants, fast-food outlets, schools, hospitals, universities, caterers, hotels, food courts, churches, day-care centers, senior care centers and more. This is a repeat business, that is mandated by law, requires few employees and has low overhead in a fragmented industry. You get started immediately with National Accounts developed for you by the franchise and Local Accounts developed by the franchisee selling the business.


These commercial customers are not only limited to fast-food or quick-service restaurants, any establishment that serves food is in need of service:
*Airports
*Banquet Facilities
*Casinos
*Caterers
*Churches
*Conference Centers
*Correctional Facilities
*Country Clubs
*Daycare Centers
*Food Courts
*Food Processing Plants
*Hospitals
*Office Building Cafeterias
*Public Schools
*Retirement Communities*Universities
*Zoo / Amusement Parks

Parent Company is owned by the worldwide leader in property restoration services with over $1 billion in sales, offices in 27 countries and the ability to provide assistance to 90% of the global insurance market. Two business models available: Operator Model for the hands-on owner interested in daily interactions with customers and employees. Owners operate their franchise within a protected service area (PSA), giving them freedom and assurance, as well as a tremendous opportunity for success. You must be able to manage 2-3 blue collar employees. You should have good marketing and networking skills.

Successful franchisees are folks who are comfortable getting out of the office and in front of decision makers. They tend to be comfortable with sales & comfortable talking with people. They are folks who like to meet new people, and have the ability to build trust to gain new customers.

This franchise is clearly the leader in this market. A reputation for trustworthiness, thoroughness, reliability and compliance, as well as the benefit of National Accounts give this franchise a competitive advantage as the Nation's Largest Hood Cleaning business. The advertised price includes your franchise fee, equipment package and working capital.

Serious Investors only. No students or brokers please. To receive additional information we will need you to supply: Your full name Complete mailing address (No PO Boxes Please) Best Phone number to reach you Your email address Your information is kept strictly confidential and you will not receive span. We will be contacting you as soon as possible to discuss your interest and provide additional details.

No students or brokers please. The information contained in this ad does not constitute an offer to sell or award a franchise. Such an offer can only be made in compliance with applicable disclosure laws. Offerings are made by Franchise Disclosure Document only. Interested buyers must have a minimum net worth of at least $200K. The franchise requires buyers to be a US Citizen.
Facilities
Work from home, mobile business.
Competition
There is no National competition for this highly desired service. The franchise was created because there was a growing need and current independent providers were unprofessional, untrustworthy and gouged their clients. Enjoy a franchise with deep pockets, in-house funding, and National Accounts.
Growth
Lots of opportunity to grow in existing territory by adding staff and focus on marketing. Extra territory can be added at a significant discount.
Financing
The franchise will fund up to $56K in equipment for qualified buyers. This leaves your initial investment at only $78,300! We can also help you with using 401K funds to purchase your business.
Training
Superior training and support owners includes (but not limited to) two-week initial training, field support, annual meetings, national advertising and PR, negotiated purchasing benefits, and ongoing advanced level training.
Business Status
This franchise provides mandated services to many national food franchises and needs representation in all locations. This location needs a franchisee to support existing accounts. This is a franchise looking for a new franchisee in your area. It is not an existing business for resale. Contact ABC to check for current pricing and availability. Affordable Business Concepts, LLC does not make any guarantees or declarations regarding earnings. The information contained in this ad does not constitute an offer to sell or award a franchise and may not reflect the most current facts. Such an offer can only be made in compliance with applicable disclosure laws. Offerings are made by Franchise Disclosure Document only.