Established Sign and Print Franchise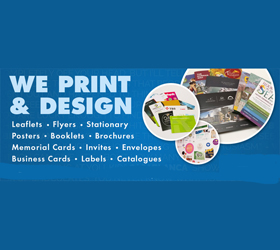 Description
This is an existing franchised business with an established facility, trained staff and ongoing cash flow. This franchise has led the way in the evolution in the graphic communications industry — from printing to full service marketing communications.
This diversification initiative assisted our franchise members in expanding their service offering from digital and offset printing to include value-added services such as variable data, signs and banners, promotional products and mailing services as well as marketing consultation, strategic planning and creative development.
Centers provide graphic design, printing, mailing, and strategic marketing consultation services, as well as sales promotion products to small and medium-sized businesses, nonprofits, and institutions. Virtually every business and institution requires digital or printed promotional and informational materials of the type offered by our centers – and a high percentage of these customers will generate frequent reorders of consumable printed materials and promotional products.
The business model is among the most successful in all of franchising, and for many good reasons. It offers you access to a large and stable market that needs what you sell. It can provide significant income and equity growth that's controlled by you. It's a business that involves creativity, as well as the satisfaction of producing high-value products to drive customer success. Equally as important, it's a career choice that allows an excellent work/life balance with B2B business hours.
Please pay careful attention to the financial requirement of a required minimum net worth of $400K. The franchise requires the buyer must be a US or Canadian Citizen.
Facilities
Fully Equipped digital imaging and print production facility in an excellent exclusive territory with trained employees and accounts.
Competition
Their competitive advantage resides in world-class marketing and marketing sales training and a unique Marketing Resource Center that provides strategic consulting and sales coaching, as well as complete creative services to execute any type of marketing tactic for clients. They offer more than 200 cost-advantaged vendor relationships to drive higher margins and increase profitably for franchisees. They assist franchisees with acquisition of local competition to grow sales. A franchise typically has a large and diverse customer base with an average of 75 to 100 accounts representing 75% of sales.
Growth
Franchisees can grow their revenues by growing their customer base, offering additional services, selling centralized marketing solutions and more. You can also open additional centers and cover a larger territory.
Financing
We can introduce you to franchise friendly lenders. We refer you to unlock your IRA or 401K plan without penalties . We can also get you SBA Pre-Qualified in about 24 hours after application with no cost or obligation.
Training
Unparalleled support. 3 Weeks of training. 2 weeks at HQ and 1 week at your center. Unique profit growing tools and training. Comprehensive software / CRM training, Ongoing webinars, conference calls and national meetings. Dedicated regional support with field visits. 24/7 technology support. Ongoing sales and development training.
Business Status
This is an Existing Franchise for resale by the Franchisee. Contact ABC to check for current pricing and availability. Affordable Business Concepts, LLC does not make any guarantees or declarations regarding earnings. The information contained in this ad does not constitute an offer to sell or award a franchise and may not reflect the most current facts. Such an offer can only be made in compliance with applicable disclosure laws. Offerings are made by Franchise Disclosure Document only.