Affordable Pet Sitting and Dog Walking Service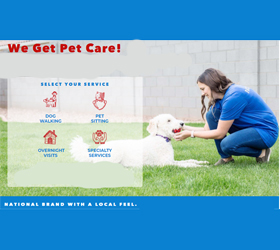 Description
This is a great professional dog walking and pet sitting franchise. For the convenience of pet owners, skilled pet care coordinators personally match all of their dog walkers and pet sitters who are trained, bonded, insured, background checked to meet the specific needs of each pet. With thousands of satisfied clients nationwide, this franchise has earned the reputation as the most relied upon and trusted pet care service in the country.

They offer locally owned and operated in-home pet care. Their focus is on exceptional service and reliable care. Their Franchisees employ Pet Care Providers who provide recurring service to pets and their clients. Primary customers are working people that need someone to check in on their pets during the work day or people that need a sitting service for a vacation they are taking
Their services include:
• Daily Private Dog Walking
• Daily Pet Sitting
• Pet Playtime
• Overnight Care
• Puppy Program
• Specialty Services
• Pet Taxi
• Health Administration, pills, injections, shots and fluids

Key Features of this Franchise Opportunity:
• Dog walking and Pet Sitting Service Offered
• Franchisees coast-to-coast
• Home-Based, no office necessary
• Uses App to set up appointments (Think Uber for pets)
• Recurring Income
• Few employees
• Amazon-Proof
• Call Center manages most aspects for Franchisees
• Dog walkers are background checked, licensed, bonded and insured
• Business is a fast startup. it takes about a month to get going
• Semi-Absentee ownership possible with a Manager
Note. Serious investors only please. The business will not respond to general inquires, students or brokers. Please respond with: Your full name/, home mailing address (no PO Boxes), phone numbers and best time to contact you. Please pay careful attention to the financial requirement of a required minimum net worth of $250K with $60K liquid.

This sale is confidential. The information contained in this ad does not constitute an offer to sell or award a franchise and may not reflect the most current facts. Such an offer can only be made in compliance with applicable disclosure laws. Offerings are made by Franchise Disclosure Document only. Relevant information for business purchase will be provided by the Franchisor and Seller. Affordable Business Concepts, LLC does not make any guarantees or declarations regarding earnings. Before buying any business always consult your accountant, franchise attorney and/or financial advisors. This ad is for a new franchise and is not a business resale.
Facilities
This is a true home based business with a few skilled employees/, minimal inventory/, no receivables and good margins.90% of franchisees own more than one van. Exclusive territory is 100/,000 to 300/,000 in population/, depending upon the characteristics related to a particular territory to be defined by contiguous zip codes.
Competition
Their Mobile App allows pet owner?s to easily manage their pet?s care and receive updates on their pet?s schedule and services. The App handles finding customers, booking appointments, billing and collections for Franchisees. The Management Team has over 125 years of combined franchise experience. They provide Strong Operations and Marketing Support. This franchise has National Exposure and Brand Awareness. The Wall Street Journal, NBC, USA Today and Fox News are a few national media outlets which have featured this franchise. This business is recession resistant.
Growth
Be part of the fast growing $70 billion dollar Pet Care Industry with an affordable franchise. They offer a Client Concierge Center. The Call Center is a full service logistics center that supports Franchisees by personally matching every client to their Pet Care Provider to meet the needs of their pets. The fully integrated Center is staffed 365 days a year to handle customer service and scheduling. Minimum territory size if 50,000 households. Double and triple territories area available for a discounted fee.
Financing
Financing referral available to franchise friendly lenders to help you with a loan or to help you unlock your 401K. We can help you obtain SBA Loan Pre-Approval in 24 hours.
Training
Their turnkey solution provides comprehensive training, 1-on-1 coaching, task lists and marketing support to help Franchisees build their business. The franchise has a Quick Ramp-Up Time. Includes 4 days in-person training, 2 days in market training and grand opening. Weekly coaching calls. Online training platform. A support intranet and support line for franchisees.
Business Status
This is a franchise looking for a new franchisee in your area. It is not an existing business for resale. Contact ABC to check for current pricing and availability.