COVID-19, DNA, Drug and Alcohol Diagnostic Lab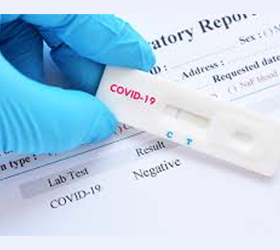 Description
This National Franchise Brand provides diagnostic lab testing services through their network of local owners. This start-up business model is also a full-fledged lab offering a diverse portfolio of testing services to both the business and consumer markets. Recently they have incorporated Covid-19 antibody testing capability into their offering. This B2B franchise start-up opportunity is best suited for middle or upper management individuals with consultative sales ability and who have a passion for serving their community. Franchise Owners can pursue any of the following revenue opportunities.
1) Workplace testing including drug, alcohol, background screens, D.O.T. consultation
2) Direct-to-Consumer Testing including paternity, infidelity, STD, personal genetics or other DNA testing and soon to include Covid-19 testing.
3) Business-to-Physician offering multi-testing services to physicians and the medical community.
4) Business-to-Judicial testing for the court systems including drug court, pre-trial intervention, social services, immigration, and child custody cases. Some of these services can also be conducted on-site or mobile.
5.) Testing and services can include: Covid-19 antibody testing, allergy, hormone, DNA, flu shots, and many more.
Testing programs achieve higher productivity, reduce absenteeism and lower insurance costs. Local Labs provide the following tests and services: Covid-19 virus and antibody testing coming soon, allergy, hormone, DNA, paternity, STD, background checks, flu shots, and many more.
Features of this Franchise:
1.) High Gross Margins from Multiple Revenue Streams

2.) Part of the lucrative medical industry with high repeat customers
3.) This is an executive model business
4.) Owner will need to develop a small team of 2-3 employees to grow the business.
5.) Business operates weekdays. No evenings or holidays (Weekends optional)

6.) Labs have a small office footprint (1500 sq. ft.) in a medical or business park
7.) Includes mobile testing component for onsite testing at Businesses
Interested buyers must have a Minimum Net Worth: $400K and be a U.S. citizen. Investment can range from $157K up to $257K.
Note. Serious investors only please. The business will not respond to general inquires, students or brokers. Please reply with: Your full name Home mailing address, Phone numbers and best time to contact you are required. Your information will be kept confidential and you will get quick response.
This sale is confidential. The information contained in this ad does not constitute an offer to sell or award a franchise and may not reflect the most current facts. Such an offer can only be made in compliance with applicable disclosure laws. Offerings are made by Franchise Disclosure Document only. Relevant information for business purchase will be provided by the Franchisor and Seller. Affordable Business Concepts, LLC does not make any guarantees or declarations regarding earnings. Before buying any business always consult your accountant, franchise attorney and/or financial advisors.
Facilities
These services are available through a 1500 - 1800 sq. ft. lab or They can also go onsite with their mobile service.
Competition
With 15 years of experience this franchise provides a national brand dedicated to drug and alcohol testing. Now with the Covid-19 pandemic, their established network of doctors available 24/7 for TeleMedicine is needed more than ever. This franchise has developed a Covid-19 antibody test. They support the changing and increasing regulations of the Department of Transportation (D.O.T.) .
Growth
As a franchisee you will be among the leaders in providing screening in the multi-billion dollar lab testing industry. There is opportunity to grow with additional territories over time.
Financing
We can introduce you to franchise friendly lenders. We refer you to unlock your IRA or 401K plan without penalties . We can also get you SBA Pre-Qualified in about 24 hours after application with no cost or obligation.
Training
This franchise provides superior training and support for your new business. They provide the tools. operational support and resources to necessary. You will be coached through a six step training program.
Business Status
ABC is recruiting new pre-qualified buyers on behalf of a major National Franchise Brand. It is a start-up opportunity and not a resale of an existing business. Contact ABC to check for current pricing and availability. ABC does not make any earnings guarantees or declarations. The information contained in this ad does not constitute an offer to sell or award a franchise and may not reflect the most current facts. Such an offer can only be made by the Franchisor in compliance with applicable disclosure laws.