Established Sign Business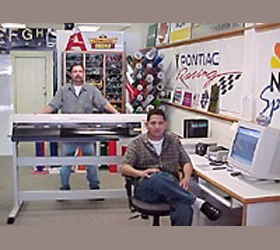 Description
One of the industry's leading sign and graphic franchises has an opportunity for a business in your area. Using a computer-based design technique, their concept emphasizes sign and graphic solutions. They offer fast turnaround, a business-to-business environment, and top-quality signs and graphics for corporate, professional and retail clients. This franchise has been recognized with many industry and franchisee satisfaction awards.
98% of all signs are indoors. They are paper posters, cardboard, banners and thin plastic like materials. Most signs are thrown away every month. Right now is the most exciting period in the history of digital imaging. Signs are no longer what they once were; today's sign shop is a quasi-advertising agency featuring full-color designs and graphics. They open every new center with state-of-the-art graphic equipment in order to meet the needs of everyone from the small business owner to corporate clientele.

Some of the graphic and signage solutions they provide are:

Trade Show Displays & Graphics
Vehicle wraps and graphics
Wall-sized murals and custom wall coverings
Window graphics
Building wraps
Electrical/illuminated signage & displays
Engraved products (plaques, recognition displays)
Full color banners and posters
Magnetic signs
Handicapped signage
Advertising Specialties/Promotional Products
Architectural sign solutions (interior and exterior)
Art/photo prints/enlargements
Blueprints
It is close to home, low-overhead business park location, family friendly hours, with a small staff of career employees. There are no loud noises, odors, or dangerous chemicals. It is a relationship business with repeat customers. Twenty to thirty of those customers can equal 80% of your revenue. Strong Repeat Business - over 80% of the customers are regulars. It is a non-cash transaction business. This company has established itself as the leader in the sign industry.
Interested buyers must have a minimum net worth of at least $250K and be a United States or Canadian Citizen. The business will not respond to general inquires, students or brokers..
Facilities
Your center will be located in a Light Industrial or Flex Space area which will provide you with plenty of space for a production area and conference room to produce the products you sell and consult with perspective new clients. Through the use of computer software and state of the art equipment, you will manufacture a host of computer generated graphics for indoor and outdoor use in a clean environment.
Competition
High growth industry, family friendly business hours, low seasonality, few employees, highest average unit volumes, highest franchisee satisfaction rates, highest franchisee success rates, highest brand recognition, highest web traffic for lead generation, B2B business clientele, recession resistant business, highest revenue in the quick sign industry, system wide store revenue increases 14 out of 15 consecutive years, Franchise 50 award winner.
Growth
Lots of opportunity for growth with existing site or multiple sites.
Financing
We can help you obtain SBA pre-qualification in about 24 hours after application. We can also help you unlock your 401K without penalties or refer you to franchise friendly lenders.
Training
One week at a sign center, followed by two weeks at headquarters and one week onsite at your new center. Franchisee Mentor Program to guide you in every aspect of your business. 24-Hour Web-Based Learning Management System. Personalized Operational Support
Business Status
This is an Existing Franchise for resale by the Franchisee. Contact ABC to check for current pricing and availability. Affordable Business Concepts, LLC does not make any guarantees or declarations regarding earnings. The information contained in this ad does not constitute an offer to sell or award a franchise and may not reflect the most current facts. Such an offer can only be made in compliance with applicable disclosure laws. Offerings are made by Franchise Disclosure Document only.