Competitive Non-Medical Drug & DNA Testing Labs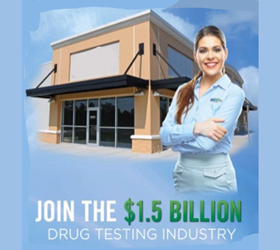 Description
This franchise offers affordable drug, alcohol, DNA paternity and background screening. They focus on SPEED, COST and the customer experience. $1.5 billion growth industry. You will see clients within 5 minutes rather than a typical 1 hour wait at a medical facility, they send rapid test results immediately, rather than in 1 to 3 days and they can meet or beat competitor pricing. Low cost start up, high margins, 9-5 banker's hours and thorough franchisee training make a drug testing franchise extremely appealing.
Franchisee must be a full-time owner operator with critical skill sets in sales, marketing and or customer service. They must enjoy networking and serving others because they are in the people business. Their franchise process is tried and true, and they've worked for years to craft a reputation within their industry that's second to none. When you choose to join their franchise team, you'll benefit from their established name, tested practices, and high-speed support.
Key Features:
World Class Support
Small Office Space Footprint
Thorough Training
Low number of employees
No medical training required
Low royalties
Low cost insurance required
High gross margins
Family Friendly Hours
Services Offered:
Drug and Alcohol Testing
Federal D.O.T. Drug Screens
On-Site or Mobile Testing
Background Checks
DNA and Paternity Tests
Urine and Saliva Drug Testing
Steroid Testing
Teenager Drug Testing
Workplace Drug Testing
Customer Examples Include:
D.O.T. like Trucking, FAA, Railroad and Coast Guard
Law Firms for Divorce, Child Custody, Probation
B2B Services like Electricians, Security, HVAC
B2C Private like Court Ordered Tests, Teen Testing
Businesses like Nursing, Staffing and Healthcare
DNA Testing for Paternity, Alleged Father and Child Support
Note. Serious investors only please. The business will not respond to general inquires, students or brokers. Please reply with: Your full name Home mailing address, Phone numbers and best time to contact you are required. Your information will be kept confidential and you will get quick response. Interested buyers must have a minimum net worth of at least $150K and be a United States or Canadian Citizen.
The information contained in this ad does not constitute an offer to sell or award a franchise. Such an offer can only be made in compliance with applicable disclosure laws and a Franchise Disclosure Document. Check for current pricing and availability. Affordable Business Concepts, LLC does not make any guarantees or declarations regarding earnings. Buyer must be a US Citizen.
Facilities
These services are available through a low cost 700 sq. ft. lab. This keeps costs low and allows the franchise to maintain low prices and high margins. Territories support 100,000 people or 7500 businesses. Additional territories can be added for multi-lab licenses. Franchhise allows up to two years to open a second territory when a discounted multi-territory license is purchased.
Competition
They offer competative prices where they can meet or beat prices for affordable services because they focus on non-medical and that allows for significantly lower expenses. No blood draw means no phlebotomist and no liability insurance assiciated with drawing blood. The focus in on testing urine, hair, fingernails, DNA swabs etc. Typical customer wait time is under 5 minutes with immediate results. The franchise will perform a competative analysis for the franchisee to assist in their meet or beat cost setting policy. They are proud of their clean labs and drug testing facilities. They also have earned the highest service ratings in the industry.
Growth
As a franchisee you will be among the leaders in providing screening in the multi-billion dollar lab testing industry. There is opportunity to grow with additional labs over time.
Financing
We can introduce you to franchise friendly lenders. We refer you to unlock your IRA or 401K plan without penalties . We can also get you SBA Pre-Qualified in about 24 hours after application with no cost or obligation.
Training
This franchise offers all of the assistance you need to not only get your own business up and running but also to experience great personal and professional success. With their 10+ years of industry experience and their proven operations system on your side, not to mention continual support, guidance, and training, you'll have everything you need to own and operate your very own drug, alcohol, and DNA testing laboratory facility.
Business Status
This franchise is recruiting new pre-qualified buyers on behalf of a major National Franchise Brand. It is not a resale of an existing business. Contact ABC to check for current pricing and availability. ABC does not make any earnings guarantees or declarations. The information contained in this ad does not constitute an offer to sell or award a franchise and may not reflect the most current facts. Such an offer can only be made in compliance with applicable disclosure laws. Offerings are made by Franchise Disclosure Document only.