Peer Advisory Board and Consulting Business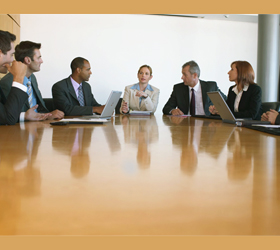 Description
This franchise is an exclusive, membership-based organization that helps business leaders achieve more – more profitability, productivity, and personal fulfilment. As Certified Facilitator/Coaches, franchise owners lead monthly peer advisory board meetings and provide business coaching and consulting to individual members and their companies.


Their most successful franchisees possess several of the following attributes:
• Motivated and driven to succeed
• Possess strong business development aptitude
• Enjoy prominence and prestige in their community
• Passionate about helping business owners succeed
• Comfortable making group presentations
• Minimum of seven years of business executive, ownership or consulting experience

Function of the Owner/Daily Tasks:
• Facilitate monthly peer advisory board meetings, comprised of up to 10 members on each board. Members are typically business owners, CEOs, presidents and key executives. Members share issues and give real-world, practical advice on how to solve challenges and seize new opportunities.
• Conduct individual monthly coaching sessions with each member. This franchise has proprietary tools and processes to deliver value to members.
• Present the franchise process and membership benefits to prospective members both in group and one-on-one settings.

The information contained in this ad does not constitute an offer to sell or award a franchise. Such an offer can only be made in compliance with applicable disclosure laws. Interested buyers must have a minimum net worth of $300K with $100K liquid.
Facilities
Work from your home office.
Competition
The biggest advantages to owning this franchise are: 1. Income predictability: Under their subscription model, members pay monthly membership dues which provide a consistent cash flow that franchisees can count on from month to month. 2. Additional income: Revenue beyond membership dues from consulting provided to members and others met through the franchise opportunity. 3. Transferability of board membership: Equity in the franchise business is built because the members find the value in the boards and the process, not in an individual. 4. The franchise also has a strong history of successful re-sales. 5. Strong International presence
Growth
Lots of opportunity for growth as a franchisee. You can provide individual consulting revenue in addition to board meetings. You can also form multiple groups so the business is scalable. the franchise also provides Lead Generation Assistance: the franchise provides a proven integrated approach to marketing and launching a new franchise business, consisting of: A proven list of target prospects in select industries and revenue sizes based on propensity to become members., Outbound marketing campaign, involving email marketing, telemarketing and webinars, to target prospects. Social media marketing to build connections, raise awareness and generate discovery meetings with prospects. Franchise business networking and referral marketing programs, providing additional opportunities to generate interest from local business owners. Center of Influence events, educating select local influencers with special offers, so they can help spread the word.
Financing
We can introduce you to franchise friendly lenders. We refer you to unlock your IRA or 401K plan without penalties . We can also get you SBA Pre-Qualified in about 24 hours after application with no cost or obligation.
Training
The franchisee training program consists of: Online pre-initial training, Eight days of Initial Training held at our Global Corporate Headquarters, Up to 8 days of field support training in franchisees protected territory, helping franchisee launch the business. Two days of Advanced Training held at Global Corporate Headquarters; Coincides with Annual International Conference, typically completed during first two-years of operation. Weekly business coaching during the first three months of operations. Peer Advisory Board with fellow Business Owners 3 months +; Invitation to weekly group coaching calls. Ongoing training via annual international facilitator conferences, webcasts, and online training
Business Status
This ad is for a franchise looking for a new quality franchisee in your area. It is not a resale of an existing business. Contact ABC to check for current pricing and availability. Affordable Business Concepts, LLC does not make any guarantees or declarations regarding earnings. The information contained in this ad does not constitute an offer to sell or award a franchise and may not reflect the most current facts. Such an offer can only be made in compliance with applicable disclosure laws. Offerings are made by Franchise Disclosure Document only.