Excellent Established Maid Service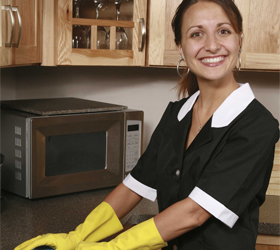 Description
This is an existing franchise with an office, staff, trained employees and ongoing cash flow. The franchise offers franchisees innovative and sophisticated methods to develop large, successful residential cleaning businesses. Business owners implement an ambitious and effective customer acquisition program. This program, through employee management and client satisfaction systems, drives their cash based, residual income model. The franchise business model combines simple business fundamentals with solid systems, and an unprecedented support infrastructure, towards tremendous income potential. This opportunity offers a track record for great ROI, consistent annuity based revenue and a wonderful life-style flexibility. This is a Monday thru Friday business, with few to no weekends or holidays.
Customer acquisition is done using national, local and most of all, our direct mail program. Their DM program is extremely ambitious as they send out over 1.2 million pieces of direct mail every week on behalf of their franchisees. DM is responsible for bringing in over 80% of the customers. The Call Center handled nearly 2300 calls, that are responses to marketing, and booked nearly 1200 appointments in the typical week.

Please pay careful attention to the financial requirement of a required minimum net worth of $350K Must be a US Citizen.


Facilities
Small office is required. Average start-up of 50,000 Designated Households (DHH). A DHH is determined using demographic analysis, most important is household income. Geographically a territory consists of marketing carrier routes and zip codes.
Competition
Their proprietary cleaning system goes above and beyond all companies. The franchise is also environmentally friendly and use products, vacuums, methods, etc. that have all been endorsed by GreenSeal.org. Their aggressive marketing program and call center grow your business quickly. This franchise claims to have the highest average unit revenue in their industry.
Growth
There is a call center that takes over 40,000 calls per month which keeps franchisees from having to be tied to their desks. They can focus on business growth and customer service.
Financing
We can introduce you to franchise friendly lenders. We refer you to unlock your IRA or 401K plan without penalties . We can also get you SBA Pre-Qualified in about 24 hours after application with no cost or obligation.
Training
Two-week corporate office training. Followed by regular on-site visits and weekly phone calls. Also operations personnel are assigned to franchisee during each phase of growth.
Business Status
This is an Existing Franchise for resale by the Franchisee. Contact ABC to check for current pricing and availability. Affordable Business Concepts, LLC does not make any guarantees or declarations regarding earnings. The information contained in this ad does not constitute an offer to sell or award a franchise and may not reflect the most current facts. Such an offer can only be made in compliance with applicable disclosure laws. Offerings are made by Franchise Disclosure Document only.