Semi-Absentee Dry Cleaning & Laundry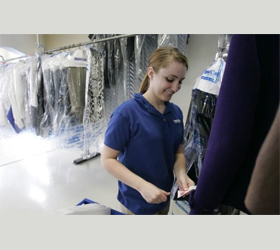 Description
This Dry Cleaning has been around for decades. Their dynamic "hub and spoke" re-designed franchise opportunity is revolutionizing the industry, and they now added new services to diversify and expand their reach. Welcome to the new Dry Cleaning franchise business model, which now features:
Traditional retail dry cleaning and laundry store
Residential dry cleaning and laundry delivery routes
Commercial dry cleaning and laundry delivery routes
Dry cleaning and laundry locker systems in commercial buildings and multi-unit dwellings
On-demand dry cleaning and laundry services (think Uber, but for dry cleaning instead of taxi)
Business Features Include:
Highly ranked franchise in dry cleaning category for decades
Dry cleaning is ranked #4 in the top 10 best producing businesses by USA Today
Multi-unit locations with multiple service offerings
High gross profit margin
No industry experience preferred
Repeat business
B2B and B2C
Franchisor negotiates the lease for the franchisee
Franchisor procures and installs location equipment package
Family-friendly hours
Low out-of-pocket up-front investment using collateral-based loan
Functions of the Franchisee:
Hire, train and develop staff
Work with corporate office to develop and execute marketing plan
Provide legendary customer service that is rarely seen in the dry cleaning industry
Inspect store(s) for quality and performance
Actively expand routes, lockers and on-demand services through B2B networking
You must be a United States or Canadian Citizen with a minimum net worth of at least $500,000.
This sale is confidential. The information contained in this ad does not constitute an offer to sell or award a franchise and may not reflect the most current facts. Such an offer can only be made in compliance with applicable disclosure laws. Offerings are made by Franchise Disclosure Document only. Relevant information for business purchase will be provided by the Franchisor. Affordable Business Concepts, LLC does not make any guarantees or declarations regarding earnings. Before buying any business always consult your accountant, franchise attorney and or financial advisors. By requesting information and providing your contact details, you agree that Affordablebusinessconcepts.com and the business you select may contact you by phone, text and or email including for marketing purposes related to your inquiry. This contact may or may not be made using automated, pre-recorded or artificial voice technology. Data and message rates may apply.
Facilities
Franchisees will open their location in a traditional retail establishment (approximately 1,800 to 2,500 sq. ft.). Within two weeks of the initial training program, franchisees will have the ability to launch Routes, Lockers, and On-demand. This unique opportunity allows franchisees to generate revenue from multiple services. Exclusive territory is a 1.5 mile radius around the franchise location.
Competition
Competitie advantages include Technology ? cutting-edge, patented and app-driven, the dominant and most recognized brand in the industry, 62% of all dry cleaning customers nationwide are familiar with the brand name. The next closest competitor had 18% brand recognition. North America?s best and most recognized dry cleaning systems rolled into one ?hub and spoke? model, Diversified services under one umbrella, they bring a completely different, customer service oriented philosophy to an industry full of dry cleaners.
Growth
The franchise offers extremely lucrative discounts for multi-unit locations. 34% of current franchisees own more than one unit.
Financing
We can refer you to franchise friendly lenders. US customers can be SBA Pre-Qualified in about 24 hours after application with no cost or obligation. Low out-of-pocket up-front investment. A large majority of the total investment is made up of an equipment package that can be financed through many different options (collateral-based loan).
Training
Superior training and ongoing franchise support indluces; Launch training program to help guide franchisee on obtaining insurance, finding employees, setting up business and banking accounts, etc., Assist franchisee in selecting a site and negotiating the lease for the site, Assist with installation of equipment package to be installed on-site, Develop and implement a grand opening marketing plan, Provide one week of classroom training at our corporate headquarters, Provide one week of hands-on training at their corporate headquarters. 7. Provide one week of in-field training at franchisee?s location. 8. Ongoing support via webinars, conference calls, emails, site visits, regional meetings and international conventions.
Business Status
ABC is recruiting new pre-qualified buyers on behalf of a major National Franchise Brand. It is a start-up opportunity and not a resale of an existing business. Contact ABC to check for current pricing and availability. ABC does not make any earnings guarantees or declarations. The information contained in this ad does not constitute an offer to sell or award a franchise and may not reflect the most current facts. Such an offer can only be made by the Franchisor in compliance with applicable disclosure laws.