World's Finest Olive Oils, Vinegars and Spirits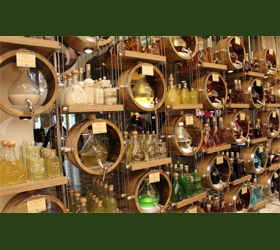 Description
This franchise is the premier specialty retailer of the world's finest oils, vinegars, spirits, and wine. They offer customers a unique and surprising Mediterranean experience of sampling and purchasing our wonderful products. The franchise strives to not only entertain customers but to educate them on the use and benefits of their unique artisanal products.
Franchisees enjoy sharing their love of food and drink through the sampling of products, holding educational tasting events and cooking classes, and participating in local food events. The customer's "WOW" experience and excitement about the product provides a continuously rewarding environment. This franchise is a concept partners are truly proud of owning.

They recently won Franchise of the Year! They were awarded the top retail franchise and their products continue to be best of show!

No students or brokers please. The information contained in this ad does not constitute an offer to sell or award a franchise. You must be a United States or Canadian Citizen with a minimum net worth of at least $400,000.
Facilities
Shops are warm and inviting, with an upscale European flair. Every customer is greeted when they enter the store (how unusual is that) and introduced and sampled a taste of their exclusive products. The products are so amazing because they are sealed in patented, airtight containers and shipped fresh from around the world, ensuring they come in contact with air and sunlight only at the moment of tasting or bottling. Customers make their product selections, select the type and size of bottle and the staff then dispenses the product. This is environmentally responsible way to package product because customers bring back the empty bottler to be refilled. How cool is that!
Competition
A knowledgeable and well-trained staff that educate and enlighten customers on recipes and different ways to use products is really important. Word of mouth referrals spread quickly throughout your community so you don?t have to spend a ton of money on marketing.
Growth
Multi-store agreements are available to add units over time. You can buy a 3 pack where the franchise fee is discounted, (buy 2 get 1 free).
Financing
We can help you obtain SBA pre-qualification in about 24 hours after application. We can also help you unlock your 401K without penalties or refer you to franchise friendly lenders.
Training
They provide comprehensive hands on training so franchisees hit the ground running. Initial training is 10 days at our corporate headquarters followed by 2 weeks onsite for opening. Extending afterwards there are weekly calls until the franchisee feels they are no longer necessary. And there is always support for questions that come up.
Business Status
This ad is for a franchise looking for a new quality franchisee in your area. It is not a resale of an existing business. Contact ABC to check for current pricing and availability. Affordable Business Concepts, LLC does not make any guarantees or declarations regarding earnings. The information contained in this ad does not constitute an offer to sell or award a franchise and may not reflect the most current facts. Such an offer can only be made in compliance with applicable disclosure laws. Offerings are made by Franchise Disclosure Document only.