Established Yogurt Franchise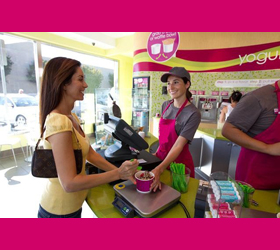 Description
This is an existing Frozen Yogurt Shop for resale. The clear market leader and one of the fastest growing frozen dessert chains. With our "mix, weigh, pay" self-service model, creates a unique shopping experience. Over 90 total yogurt flavors, rotating 14-16 at a time. Over 70 toppings from 'Hot Fudge', to fresh fruit, to Fruity Pebbles. Pay by weigh. Mix, Weigh, Pay, the customer is the "Mix Master"!
The total frozen yogurt market in the U.S. is estimated at $18.1 billion, which is more than a ten-fold increase from a decade ago, when the market size was $1.5 billion. Buyers must have a minimum net worth of $350K. No brokers or students please.
Facilities
This is an existing Yogurt Shop in an excellent Location in Nashville, TN.
Competition
The clear market leader. We have 220 stores open, 80 under construction and 150 locations in real estate and lease negotiations. No hidden charges or product mark ups. Franchisee benefits from national purchasing power and keeps the savings. Simple operation, easy to learn and manage , Clean, fun, happy, family-friendly business (low stress, no grease trap) , World-class branding , Highly scalable (simple business + quick ramp ups)
Growth
Very fast growing market. Significant discounts available for multiple unit buyers if you wish to grow.
Financing
We can help you obtain SBA pre-qualification in about 24 hours after application. We can also help you unlock your 401K without penalties or refer you to franchise friendly lenders.
Training
Significant training and support from the franchise. Before the franchisee opens their new store. The franchise will provide a fourteen (14) day of education and training at the Franchise University. The program covers both theoretical and practical
Business Status
This is an Existing Franchise for resale by the Franchisee. Contact ABC to check for current pricing and availability. Affordable Business Concepts, LLC does not make any guarantees or declarations regarding earnings. The information contained in this ad does not constitute an offer to sell or award a franchise and may not reflect the most current facts. Such an offer can only be made in compliance with applicable disclosure laws. Offerings are made by Franchise Disclosure Document only.